Richard Mofe-Damijo, a veteran Nollywood actor, has taken a trip down memory lane to commemorate another milestone in his marriage.
The well-known actor reflected on how he and his wife began to raise their family, highlighting the sacrifices she made for them.
RMD then used lovely words to describe his wife, saying that she was a strong lady to have embarked on the adventure of marriage with him.
RMD posted a throwback photo on his Instagram profile to commemorate his 21st wedding anniversary. The star stood alongside his pregnant wife, who was carrying one of their children.
RMD stated that his wife dislikes the photo because of her pregnancy-related appearance.
The movie actor then revealed how his wife chose to give up her celebrity in order to support him. RMD went on to say that his wife told him that one popular person in the family was enough.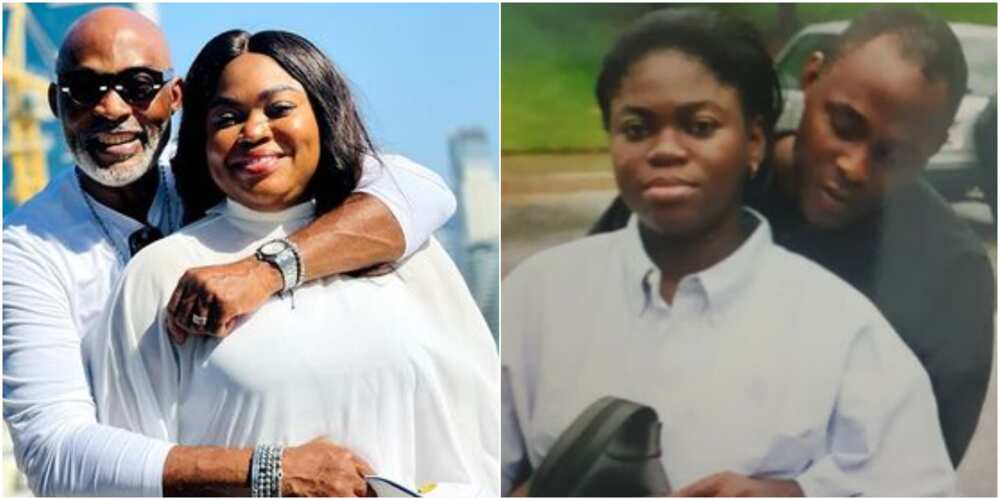 He expressed himself as follows:
"It's hard to imagine we've been together for 21 years!" This is my Abike. My name is Abk. My Abiks, my Abiks, my Abiks, my Strong and valiant. You gave up your celebrity to provide us with a home!
You said, "One in the family is enough!" I am unworthy of you. Thank you for everything you've done for me in the past, present, and future. I adore you a lot!
"PS: Please excuse me if your normal spies send this to you later. I know you despise this photo since you were hugely pregnant with Tega and your nose was flared, so that's a good place to start. Take a look at how well and fine we've both become! What an adventure we've had. You have my heart, this woman!"